Predator passage is now open!
There's more to explore on Predator Passage at the Phoenix Zoo! Traverse the newly expanded Africa Trail to get a glimpse of a handful of these top predators. Gaze upon African lions from the 20-foot-tall Predator Passage Tower and stroll along the beautifully constructed trail between habitats of the Amur leopard, fennec foxes, meerkats, red river hogs, spotted hyenas and Ruppel's griffon vultures. Predator Passage gets you closer than ever before to the plains and forests of Africa, as viewing windows and vantage points surround the habitats of the highly anticipated arrivals.
Limited-edition Predator Passage members-only shirts are available in adult sizes small through XXXL. Choose from two different designs or get both! Each shirt is $24 and can be purchased here!
African Lion & Hyena Habitat
This remarkable new habitat features a 10,000-square-foot yard and a 7,700-square-foot yard. The two species will alternate, however, the lion pride will likely be in the larger habitat more frequently.
Kamara and Zuri have joined us from Pueblo Zoo in Colorado. The five-year-old sisters were born in 2017, and have joined Boboo in their new home on the African Trail.
Mother and daughter hyenas Tamu and Taziki, born in 2002 and 2008 respectively, have joined us from Busch Gardens in Tampa.
We are initially obtaining a group of three brothers (from separate litters) approximately 8-years-old from the Capron Park Zoo in Massachusetts. Meerkat acquisition could be delayed some as meerkats can only be obtained after receiving the required permits to hold this species, and the permitting process can take significant time.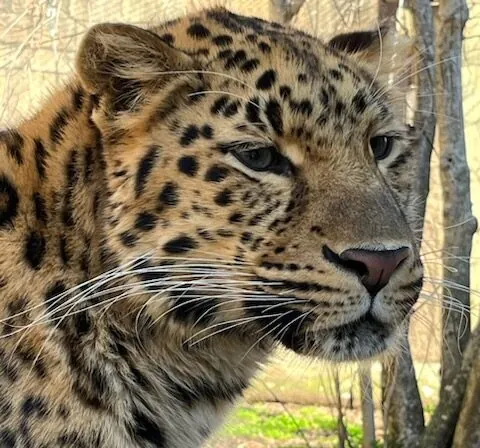 We have received a three-year-old male Amur leopard! Jasper was born at the Greenville Zoo in South Carolina in 2020. Although not from Africa, the Amur leopard is recognized as an ambassador for the African leopard. The Amur leopard is critically endangered and found in southeastern Russia and northern China. There are estimated to be less than 100 individuals living in the wild. They are part of the AZA's Species Survival Program in order to manage and protect vulnerable populations.
This new habitat provides guests a unique opportunity to see these colorful pigs that are full of personality! Red river hogs, also called "tufted pigs," are native to western and central Africa. They are fast runners and exceptionally good swimmers.
Olive and Pugsley have joined us from the Kansas City Zoo. Pugsley (male) is five and Olive (female) is nine.
Rüppell's Griffon Vultures Habitat
The new habitat, which you can visit now, houses our 13 current Rüppell's griffon vultures and any offspring produced and one lappet-faced vulture. Prominently featuring these vultures in their own habitat, we will be better suited to highlight their ecological importance and the threats they are facing. Vultures are already the most threatened group of raptors in the world, and this new habitat will provide the opportunity to educate guests about AZA conservation efforts and the Saving Animals From Extinction (SAFE) program.
Set your support for the Phoenix Zoo in stone with a brick in Predator Passage! A Predator Passage brick is the perfect way to celebrate an exciting life event, such as a birthday, graduation, wedding, or birth. It is also a special way to honor a loved one or pet. Purchase your own personalized brick today – don't miss your chance to become a "piece" of the Zoo!
The Phoenix Zoo is a non-profit organization that receives no government operating subsidy. It relies solely on earned income and philanthropic support. Of the $15.3 million campaign total, $1.5 million will be restricted to a permanent endowment to support operational and maintenance expenses of these new expanded projects.
For more information, contact Lorraine Frias at 602.914.4322.