Immerse yourself in a world where colossal dinosaurs dominate the landscape!
April 6 | May 4
Swing by the Zoo for a happy hour with a wild side!
Bunny's coming to the Phoenix Zoo… Book your photo experience today! 
Daily | Want to hear more about the animals at the Zoo? Attend a Keeper Chat!
This year, the Zoo is focused on raising money for the red river hog habitat, one of the final projects in Predator Passage.
Inspire. Motivate. Care.
Watch our new documentary:
"Working Together for Arizona's Wildlife"
Art on the Wild Side is a program dedicated to inspiration, celebration and conservation through art.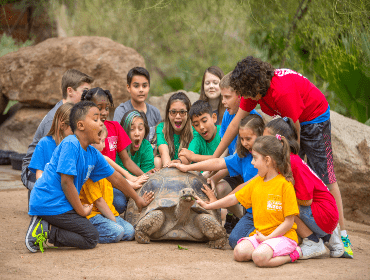 Best. Camp. Ever! Camp Zoo 2023: Behind the Scenes is open for registration and spots are filling quick!
The Phoenix Zoo is the only zoo in the Valley accredited by Association of Zoos and Aquariums.
With FREE daytime admission, discounts throughout the park & MORE, a Phoenix Zoo membership is a great value!